Dr. Dt. Seda Yıldırım – Oral and Dental Health Clinic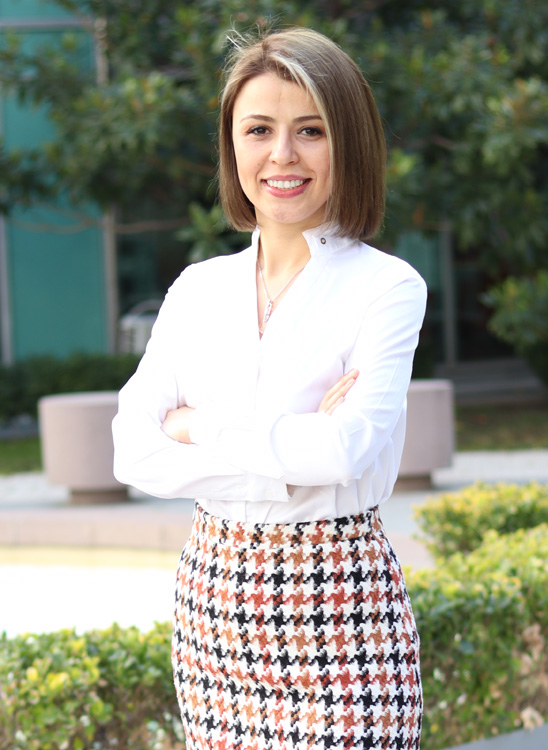 I was born on November 25, 1990 in Ankara. After high school education at Ankara Atatürk High School, I won the Faculty of Dentistry of Çukurova University in 2008 and graduated from my master's education in 2013. I worked as a dentist in various private dental polyclinics. Between 2015-2022 worked in the Oral and Dental Health Department at Private TOBB ETU Hospital and received phD education at Başkent University, Department of Prosthodontics, between 2018-2022. As of 2022, I'm applying treatments in my own clinic.
I'm a member of Turkish Prosthodontics and Implantology Association (TPID) and Computer Aided Dentistry Academy (CADA). I'm conducting academic studies on current materials used in aesthetic dentistry applications, implant prosthetic design, smile design and prosthetic applications. I apply aesthetic treatments with various materials such as IPS e.max, zirconia based porcelains and monolithic zirconia restorations, up-to-date hybrid nanoceramics and composites. My other professional interests are the treatments of joint disorders and bruxism (teeth clenching and grinding), endodontic and restorative applications, treatment of gum diseases, especially on implant supported fixed and removable prostheses, laminate veneers, full porcelain crowns, endocrones, inlay and onlay restorations.
#smiledoc
My dream of causing a smile dates back to ancient times. My interest in social responsibility projects that started in my high school years. With a volunteer team called "Everything is for a Smile", which I met during my university years, it moved to a completely different dimension. During four years, I carried out weekly motivational visits to pediatric patients hospitalized in the Pediatric Hematology and Oncology Service of Balcalı Hospital and was the manager of the team for two years, as well as the founding chairman of a social responsibility club affiliated to Çukurova University Culture Directorate. I worked with the dream of a smile in all the projects in voluntarily.
In my professional career, I continue to sign the smiles of my patients. As writer Ayşe Kulin puts it: "The best feeling in the world is knowing that you are the reason for someone's smile." In addition to my intense work and education pace; It is my greatest pleasure to go on travels, explore and create gourmet travel routes whenever I have the opportunity. I'm still a member of the Founding Board of Running for Life and Nature Sports Club and a runner in the club's Red Foxes Athletics Team.
Posters presented at international scientific meetings
1. Yıldırım S, Özer H, Yuyugullu B, "The superiority of cosmetics over aesthetics: two case reports" 24th TDB International Dentistry Congress. Ankara, Turkey 2018
2. Yıldırım S, Sakallı OA, "Minimally invasive endocron of endodontically treated tooth restoration" 25th TDB International Dentistry Congress. Istanbul, Turkey 2019
Articles published in national peer-reviewed journals:
1. Ertuğrul S, Yıldırım S, Yüzgüllü B, "Translucent Treatment of Extraoral Polishing Processes Effect of Monolithic Zirconia on Surface Roughness "ADO Journal of Clinical Sciences 2022,
Approved Other publications and Book Chapters:
1. Color in Aesthetic Applications. Karaağaçlıoğlu L, editor. Aesthetics in Prosthetic Treatment Contemporary Approaches. 1st Edition. Ankara: Turkey Clinics; 2019. p.29-37.
Participation Certificates and Certificates
1. "Antibacterial, Adhesive System: Does It Really Work? And Composite Aesthetics Formulas for Long-Term Success in Restorations", Certificate of Participation Adana 2010
2. 18th International Congress of Aesthetic Dentistry Participation Certificate, Istanbul 2014
3. "Aesthetic Restorations, Periodontal Treatments in Office Practice, Implant Primary Stabilization and Treatment of Traumatic Dental Injuries" Ç.Ü. Current Information Seminar Participation Certificate, Adana 2015
4. "Diastema Treatments with Applied Direct Methods" Participation Certificate, Ankara 2018
5. 24th TDB International Dentistry Congress Participation Certificate, Ankara 2018
6. 25th TDB International Dentistry Congress Participation Certificate, Istanbul 2019
7. "Immediate or Delayed Loading in Capture Socket Management" "Multidisciplinary Treatment in Complex Cases" with Dr. Tarnow Implantist-Expo 2019 Scientific Event Certificate of Participation, Istanbul 2019
8. "Treatment of TMJ Disorders", Turkish Society of Prosthodontics and Implantology, Continuous Prosthodontics Education 2nd Scientific Event Participation Certificate, Konya 2019
9. "P.R.P., Mesotherapy, Derma Pen Training" Certificate, Istanbul 2021
10. "Dermal Elephants Training" Certificate, Istanbul 2021
11. "Botulinum Toxin Training" Certificate, Istanbul 2021
Dr. Dt. Seda Yıldırım Oral and Dental Health Clinic
Address: Kızılırmak District 1450. St. No:3 Ankara Trade Center(Ankara Ticaret Merkezi) Block A Floor:5 No:27, 06510 Çukurambar Çankaya/Ankara Turkey
Phone: +90312 220 12 03
Gsm: +90533 552 11 90
WhatsApp: WhatsApp Call
E-Mail: info@drsedayildirim.com